Reuniendo dos voces radicales de la resistencia y resiliencia indígena, esta conversación abordará prácticas artísticas y activistas indígenas que recuperan, defienden y dan cuenta de la cultura indígena y su devenir hacia el futuro. ¿Qué pedagogías y tácticas pueden abrir posibilidades de cambio social, soberanía y justicia ambiental? ¿Cómo pueden aquellos actos de resurgimiento recordarnos que, haciendo referencia a Eve Tuck y a K. Wayne Yang, "la descolonización no es una metáfora"?
Benvenuto Chavajay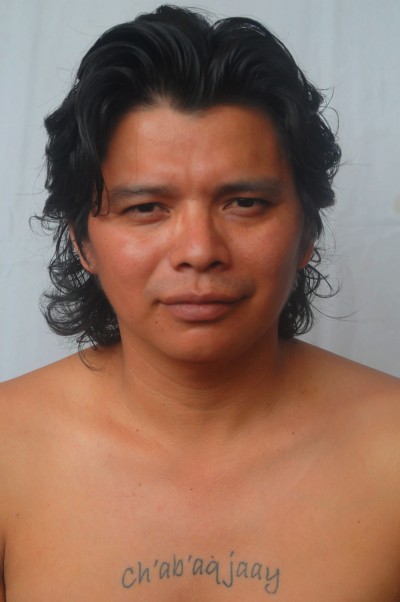 Benvenuto Chavajay IXTETELA es artista multidisciplinario de San Pedro Lago, Atitlán, Guatemala, cuya obra indaga en la herida colonial, buscando reclamar y recuperar el legado indígena a través de gestos y prácticas artísticas. Es coordinador de la Vienal del Lago. En 2016 propuso y logró la aprobación de la Iniciativa de ley 42-2016 al Congreso de la Republica de Guatemala, solicitando el cambio del nombre del Estadio Nacional de fútbol Mateo Flores a ''Doroteo Guamuche". Ha participado en diferentes encuentros académicos, entre los que se destacan: "On Homelands and the Stateless as the World Tilts Right", Atenas, Grecia, 2017; "Symbolic Reparations Conference," Harvard University, Boston, EE.UU, 2017; "De los haceres y los hacedores," Bogotá, Colombia, 2015; "Yo existo luego resisto", Facultad de las Artes-ASAB. Bogota, Colombia, 2015; charlas en la Universidad Nacional de Costa Rica UNA Facultad de Filosofia 2015; y expositor en Indigeneity| Decoloniality | @rt , en Duke University, 2014.
Cheryl Angel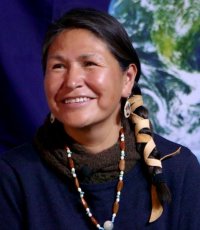 Cheryl Angel es activista espiritual lakota originaria de Sicangu. En 2016 durante Standing Rock lideró las oraciones y ceremonias para detener la construcción del oleoducto Dakota Access Pipeline, que transgrede los derechos indígenas y destruiría tesoros culturales y el agua potable. Actualmente, Angel viaja y promueve la descolonización de Unci Mahka, la Abuela Tierra, y la protección de su cuenca.
---